ONINAKI and Obon Festival
How the Japanese festival of honouring the dead influenced the game
Today is Obon Festival – the Japanese tradition of honouring the deceased and praying for their journey to the afterlife.
Obon, and similar festivals around the world, influenced the development team behind the upcoming RPG ONINAKI: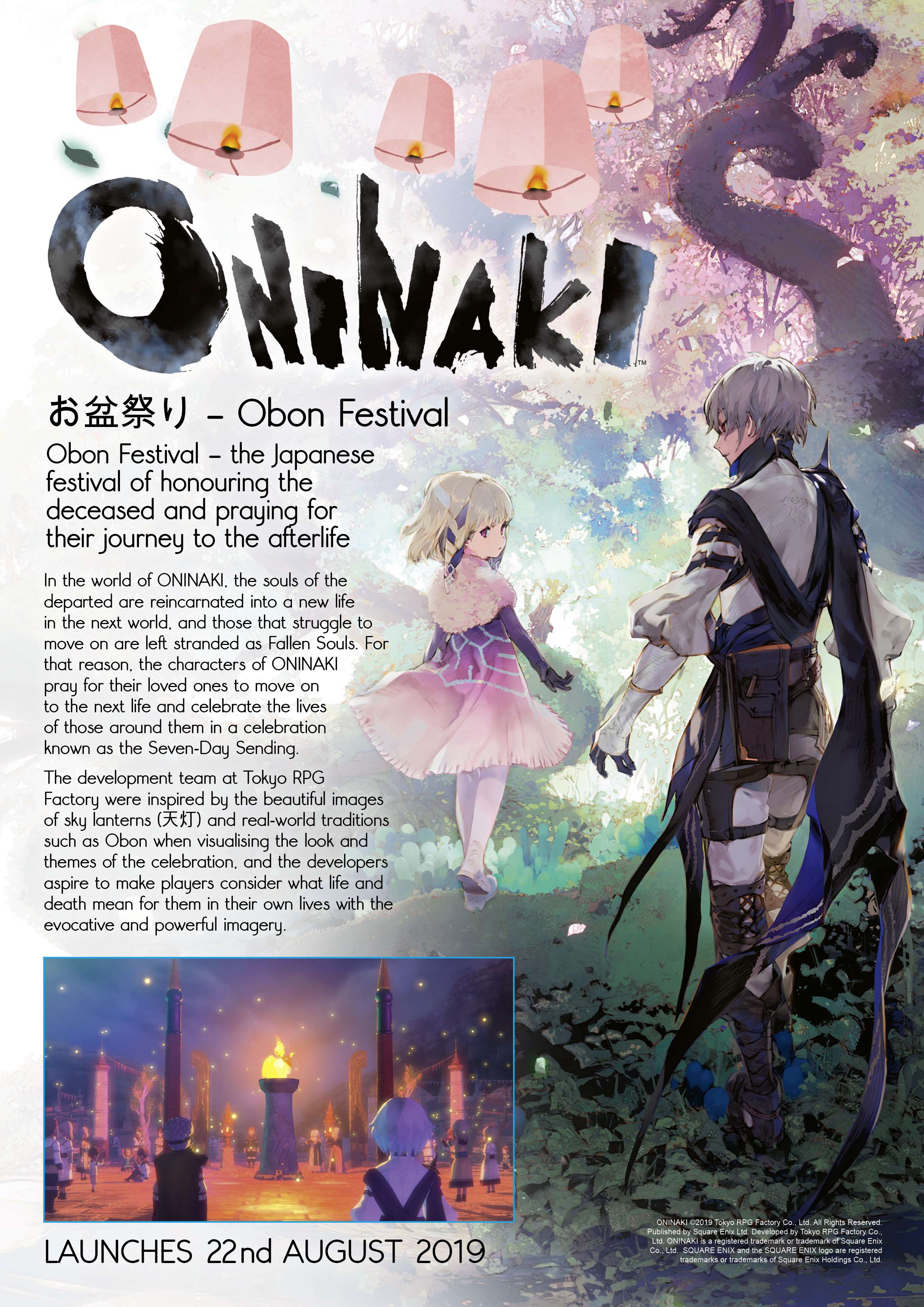 ---
In the world of ONINAKI, the souls of the departed are reincarnated into a new life in the next world, and those that struggle to move on are left stranded as Fallen Souls. For that reason, the characters of ONINAKI pray for their loved ones to move on to the next life and celebrate the lives of those around them in a celebration known as the Seven-Day Sending.
The development team at Tokyo RPG Factory were inspired by the beautiful images of sky lanterns (天灯) and real-world traditions such as Obon when visualising the look and themes of the celebration, and the developers aspire to make players consider what life and death mean for them in their own lives with the evocative and powerful imagery.
---
About ONINAKI
ONINAKI is the latest game from Tokyo RPG Factory - the studio behind I am Setsuna and LOST SPHEAR.
It's an action RPG that tells an epic tale of love, death and reincarnation. You play as Kagachi, a young watcher who has the responsibility of guiding Lost Souls to the next world. But when he encounters a mysterious young girl called Linne, his fate becomes entwined with blood and death.
The game features an exciting real-time battle system that requires tactical use of abilities and Daemons to prevail. We took a close up look at combat in the game - you can read about it here.
---
You don't have to wait long to play the full game - ONINAKI is out on Nintendo Switch, PS4 and Steam on August 22, 2019. ..why, that's next week!
There's still time to preorder though - get the game before launch and you'll get a 10% discount, as well as platform-exclusive bonuses:
Get on Switch: receive the Ouka-Setsugetsu sword weapon.

Get on PS4: receive the Emrys spear weapon and an exclusive dynamic theme.

Get on Steam: receive the Titan axe weapon and an exclusive wallpaper.
---
If you prefer a physical copy of ONINAKI, you can get one for PS4 and Switch exclusively from the Square Enix Store.
Note that this is a limited run, so if you really want the disc or cartridge, you should move fast to avoid missing out.